Every year, there are always adjustments and changes to the digital marketing landscape and the strategies continue to evolve. It is no different with this new year 2022.
This year, a lot of digital marketers have been using new digital marketing trends to augment their internet presence and that of their clients.
There are a lot of new and updated trends that you can jump on for your digital marketing needs in 2022. However, we are going to look at 10 of the top digital marketing trends.
What are the digital marketing trends in 2022?
This year, there have been awesome additions to how organizations and entities have been augmenting their online presence and bringing their products to consumers' consciousness to help them record greater turnover.
Some of these trends can be tapped into by you too for your clients and yourself as well.
Search Engine Optimization
Search Engine Optimization (SEO) is one of the most important and long-standing aspects of digital marketing. As important as SEO is, however, it remains a hard nut to crack for many digital marketers.
The reason is, Search Engine Optimization strategy can easily become obsolete whenever Google updates its search engine algorithm.
Once this happens, there's an immediate reason for a quick review of the strategy and repositioning of such to fit into the new algorithm of the search engine.
There are a lot of Google results that come out top of the search result as a result of the company or organization paying for such a position. A lot of consumers do not know about this and continue to stick to the top results.
In this sort of situation, how do you ensure you or your client get the top spot? These are some of the many things that ales SEO very dynamic and in need of regular updates.
You have to keep abreast of the slightest changes and stay ahead of the game at all times to have an impeccable optimization experience and get the best out of your SEO strategy
How important is SEO?
Every second, according to statistics from Google, about 63,000 searches are made on the Google search engine. This translates into 3.8 million searches per minute, 228 searches every hour, 5.6 billion searches per day, and 2 trillion per year. Now that's some serious statistics!
Almost daily, Google adjusts its search engine's algorithm without making any announcement or putting out any notice. This dynamic model of the Google algorithm makes it quite necessary for digital marketers to always keep up and stay aware of any changes.
All these new changes to the SEO and digital landscape make it important to always lookout for new and latest digital marketing trends.
Here are the 10 Internet Marketing trends to look out for
Blockchain in Search Engine Advertising
With Blockchain technology, advertisers can directly connect with publishers and get to advertise for brands to get a fair payment.
This means that blockchain in search engine marketing is a phenomenon to look out for and put into consideration.
Big names in the advertising market are partnering with Blockchain developers and diving into Metaverse, and are working on implementing the applications and the blocks that will make it possible to increase the efficiency of payment systems in the advertising industry.
Blockchain is transparent, and with it, you can reduce extra costs in a commission that would be paid to these platforms. Engaging Blockchain technology in Digital marketing and advertising will increase profits by reducing costs and improving efficiency.
Artificial Intelligence in Customer Engagement
The place of Artificial Intelligence (AI) in marketing and customer engagement is becoming more evident.
AI-powered tools will help with customer engagements by standing in as virtual assistants, making automated calls, analyzing customer feedback and audience behavior, as well as providing customers with the required information to enhance the customer experience.
These AIs are creating automated campaigns with past trends, and they make it easier for digital marketers to make better-informed decisions.
These AI tools are very important to digital marketing for the useful customer insight and support that they give to the digital marker and organizations.
Some of these tools include AI Chatbots that engage with the customer and provide answers to queries and inquiries instead of human and AI analytics that analyses customer data and makes use of the insight to plan campaigns and marketing strategies that will work, among others.
Machine Learning in Digital Marketing Strategy
Usually, digital marketers will have to analyze a huge collection of data to develop good marketing strategies. With Machine Learning these days, the reality has been altered.
ML-powered tools are now available and they can help with generating correct insights with the customer data. They also help with the testing of new strategies to determine their success or otherwise.
Some of the areas where Machine Learning and ML-powered tools are used include
Better search engine results with questions answered, snippets, videos, and lists among others.

Lead scoring and analyzing of consumer touch-points

Data analysis and reporting for creation and recommendation of campaigns.

Analyzing past trends to make further decisions for the future.

Make sure the right content is syndicated to the right audience to create better engagement.

Customer servicing has been shown by various studies as regarded by 57% of executives as the most beneficial use of Machine Learning.
Machine Learning has been internalized into many new services for smarter results. Even the google search engine has been incorporated with Machine Learning and it is getting better by the day.
For this reason, you must look out for such a phenomenon for your digital marketing program.
Augmented Reality (AR)
This is very important in the year 2022, engaging advertisements with the use of Virtual Reality and Augmented reality is taking the forefront.
And the attention generated by these advertising methods makes them a viable tool for digital marketing to be incorporated in the year 2020 and even beyond.
The AR and VR technologies can be used by companies to create the ideal customer experience that they intend the customers to have with their product by creating immersive ads. With AR customers have first-hand experience of the brand and their product even before patronage.
These technologies are already in use by big brands such as Coca-cola, Marriot, and many others, and you should look out for them as well.
Visual Search or QR Code Technology
Without much explanation, the Visual and QR code technology is here and here to stay.
Maybe even Forever! The market leaders like Google Lens, Pinterest, Snapchat Filters, Bixby Vision, and so many others have brought about awesome transformations in the traditional way of carrying out digital marketing.
These days, visual searches are becoming more recognized and in use than they were in the past. How then would you leverage this technology to grow your brand and gain more traffic to your website?
That is why you need to look out for this strategy. Every phone nowadays comes with cameras, and that's all that is needed for using these two methods of QR codes and Visual searches.
With Google Image Search and Bing Visual search leveraging this technology for their paid campaigns and to increase traffic to clients' websites, you have only one option. Find the perfect way to leverage this technology for your brand!
Security Compliance to Protect Customer data
This means you can't just harvest customer data from the internet to use for black hat digital marketing strategies and techniques. You have to seek here's consent before capturing their behavioral data.
This regulation is an indication of new ways of doing things. There are regulatory authorities that are taking this issue more seriously. They are creating and taking precautionary steps to ensure that all data that are available online are as secure as could be.
Therefore, you can't just buy and sell customer data as it was before without them consenting to such. You can also expect more security compliance over time, and get ready with better strategies to stay on top of the game.
Predictive Analytics & Multi-channel Attribution Platforms
These platforms have been around through 2019, and they've made it firmly into 2022 as a digital marketing trend that's worth looking out for.
There are quite many of these platforms such as Adobe Marketing Cloud, TapClicks, TrackMaven, and so on. They are based on data mining and machine learning to help digital marketers make better decisions.
These tools show the impact of every customer interaction of a brand. They can help increase the rate of customer retention by as much as 10 to 15%, and even more.
Mobile-first Indexing:
This is one of the most important digital marketing trends in 2022 and can never be over-emphasized. A lot of customers will check out your website first from their mobile phones before ever thinking of the desktop version.
This is the same with Google. The search engine's algorithm has been programmed to consider mobile over the desktop due to a large number of customers that use the service from their mobile phones.
So, what exactly will you say is the reason your website is not optimized for mobile.
To check how mobile-friendly your website is, this tool from google will be of very large help:
https://developers.google.com/speed/pagespeed/insights/
To make sure your website is mobile-friendly, use the following tips:
Make the action buttons bigger and clean to help users to click on the correct call-to-action.

Use compressed images where you need to incorporate images. You can use squoosh or any other tool for this image compression.
Ensure your mobile loads very fast and is mobile friendly with these tips and you stand to have more success with your digital marketing endeavors.
Omni-channel Marketing
This is not a new technology, but it continues to be relevant and is worthy of looking out for in 2022.
Omni-channel marketing helps brands to explore various platforms where they can engage with the audience and potential customers, give them a good brand experience, keep in regular touch with them to serve as a tool for retaining such customers.
According to a survey by ClickZ, the customer retention rates for Omni-channels are 90% more than that of Single-channel. Now, that's a stat worthy of serious attention!
Video optimization for SERP
Google has a Smart AI that has a natural language processing and pattern analysis system which allows it to find the right fit for video searches.
Therefore, when you are uploading a picture to your website, make use of the right mark-up to enable Google to understand the relevance of the video for proper searches.
Use the descriptive and relevant title to make it more optimized for inclusion among the top search results. Also, you can add transcripts and highlights to help Google AI understand the relevance of the video.
While you might want to relax and let Google's super-awesome text-matching algorithm do its work, there's no harm in putting in extra help.
If you've had the question "what are the digital marketing trends in 2022?", we hope this article can help you in forming your Internet Marketing plans this year. Although, there is nothing constant in marketing or digital.
Still, there are other trends you can look out for, but these aforementioned trends and strategies are some of the most important digital marketing trends of 2022, and you should pay attention to them!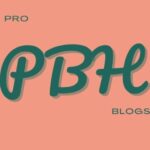 Problogshub.com is your favorite web spot to find the latest and trending web blogs in various topics. We do our best to serve you the accurate and fresh information through our blogs.